Invisalign in San Francisco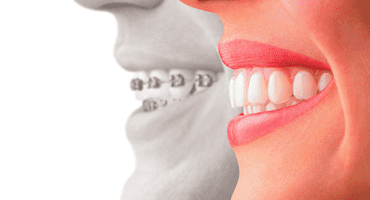 Invisalign is an orthodontic appliance system used to inconspicuously treat crooked and crowded teeth in adults and teens. This modern take on braces features a system of clear aligner trays that are worn at all times with the exception of during meals and when brushing or flossing. The trays are custom fitted to the teeth, making them virtually unnoticeable when laughing, talking, and eating with other people. Patients receive a sequence of trays, each of which is slightly different than the one before. The aligners provide slight resistance to the teeth, forcing them to move into alignment over time. With Invisalign in San Francisco, adults and teens can achieve the smiles they've always wanted without feeling self-conscious about the mode of treatment.
Straighten Your Smile Discreetly With Invisalign in San Francisco:
Invisalign works just like traditional braces. It uses a controlled force to shift your misaligned teeth into a better alignment. Generally, Invisalign can treat things like gapped teeth, crowded teeth, and mild overbite. However, Invisalign in San Francisco is made of flexible, virtually invisible plastic trays that can be removed when you need to eat and drink. Invisalign makes your dental journey peaceful with the freedom to achieve your best smile in less time without friends and family noticing.
How Does Invisalign Works?
Invisalign is an orthodontic treatment that correctly aligns your teeth. Invisalign uses clear aligners that have developed from computer-generated images and impressions taken from your mouth.
Invisalign is made of plastic trays that slowly realign your teeth in a new and improved position. Invisalign in San Francisco should be worn for 20 to 22 hours per day and can be removed for eating and brushing your teeth.
Benefits of Invisalign Treatment in San Francisco:
Comfortable:

Invisalign aligners are more comfortable than traditional braces because they have a sharp edge that digs and cut into your lips and cheeks. However, Invisalign aligners in San Francisco are custom-made for your teeth with high-quality resin, so you won't have any metal digging into your mouth.

Better Dental Hygiene:

One of the best advantages of Invisalign aligners is that it allows you to take better care of your teeth. With Invisalign, you can remove the aligners, brush, and floss your teeth without the need for any special equipment.

Fix Dental Problems:

With Invisalign treatment in San Francisco, you can fix dental problems like overbite, underbite, crowded teeth, and crooked teeth. Correcting your bite will lower the risk of cavities, gum disease, and tooth loss.

Eat Any Food and Drinks:

With braces, you are limited to certain foods you eat and drink. But, with Invisalign in San Francisco, all food and drinks are permissible. Because you can remove your Invisalign aligners before eating and after eating, it's recommended to brush, floss, and rinse your teeth with water before putting them back.

Boost Self Confidence:

Teeth are the first thing people notice when you smile. If you don't have confidence in your teeth and smile, you won't feel confident in yourself. Using an Invisalign aligner can help you get straight teeth to boost self-confidence.
Schedule Your Complimentary Consultation for Invisalign in San Francisco:
We provide Invisalign aligners in San Francisco that are dedicated to helping you in achieving your best smile. If you have any questions, please feel free to visit our dental office in San Francisco Or call us at (415) 558-9800.
Wearing Invisalign is in no way as restrictive as traditional braces? Many adults opt for this system not only because it is discreet, but also because there is no need to change your diet to avoid foods that could damage braces. This is because the Invisalign system is free of braces and brackets, instead opting for a removable tray that can be taken out prior to meals. Also, Invisalign fits well into busy San Francisco adult schedules, as there is no need to attend frequent visits for wire tightening. Most patients simply change to a new aligner tray every couple of weeks.
Frequently Asked Questions on Invisalign in San Francisco
Is Invisalign Appropriate for Teens and Children?
Invisalign was initially created for adults, it's quick success gave rise to a new process called Invisalign teen. The unique features of Invisalign teen in San Francisco are:
It helps tooth roots to grow into the right spots.
It makes it easy for kids to brush and floss.
It helps teens to stay on track for dental health by wearing the straightener.
It's less irritating and won't cause any cause of friction.
Also, teens tend to like Invisalign in San Francisco more than traditional braces because they are less noticeable, easy to clean, and comfortable.
Am I a Candidate for Invisalign?
If you have crooked or crowded teeth that are embarrassing to you or otherwise preventing you from achieving optimal oral health, Invisalign could be the solution for you. Visit your San Francisco Invisalign dentist for a complete consultation to find out if you could benefit from clear orthodontics.
What Should I Expect During My Invisalign Treatment?
You will wear your aligners nearly all of the time, with the exception of about two hours per day. Invisalign treatments in San Francisco are different for everyone, but most patients can achieve their ideal smiles within one to two years. During that time, you can expect to make occasional dental visits to monitor your progress.
Will I Need Any Post-Treatment Care?
Following your treatment, you will no longer need to wear Invisalign trays. However, you will need to wear a retainer each day to help protect your new smile. It is also important to continue visiting your dentist for routine check-ups and twice-yearly cleaning.