Teeth Whitening in San Francisco
Teeth whitening procedures are used to brighten the appearance of a patient's smile – sometimes by as many as 5 to 10 shades in a single session. According to the American Dental Association, teeth whitening procedures have become some of the most popular esthetic dental treatments among patients throughout the U.S., including San Francisco. Professional teeth whitening services can be performed in an office setting or prescribed for take-home use by a patient. In comparison to over-the-counter teeth whitening treatments, professional whitening uses stronger whitening agents that deliver faster and more effective results.
What is Teeth Whitening?
Teeth whitening is the process of lightening the natural color of your teeth without removing any of the tooth surfaces. Teeth whitening in San Francisco is ideal for people who have healthy teeth and gums
Why Do I Need Teeth Whitening in San Francisco?
We all begin with a bright white smile, but with time, the protective layer known as enamel on top of your teeth is exposed to things that can affect how white your teeth look. With things like coffee, wine, and other drinks like soda can permanently stain your teeth.
Additionally, as you age, the layer of protective enamel that makes your teeth look white becomes thin and makes your teeth look gray. That's the reason you need teeth whitening in San Francisco to make your teeth look white and healthy.
Before and After Image of Teeth Whitening in San Francisco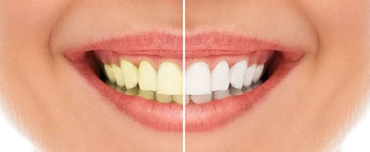 Types of Teeth Whitening in San Francisco:
There are several types of teeth whitening including, whitening toothpaste, over-the-counter teeth whitening kits, and professional teeth whitening.
Whitening Toothpaste: Whitening toothpaste use a variety of technique to lighten your teeth. But, it's typically not enough to brighten them. We recommend whitening toothpaste after professional teeth whitening in San Francisco that helps your teeth stay bright.
Over-The-Counter Teeth Whitening Kits: Many people try over-the-counter teeth whitening kits that include strips, trays, and brushes that place a substance on your teeth for a more extended period. But, they become loose making the strips and trays solution to leak, leading to gum irritation.
Professional Teeth Whitening: There are a lot of teeth whitening options available. We recommend professional teeth whitening in San Francisco with Dr. Nigel Suarez. Our teeth whitening treatments can transform the appearance of your teeth in a dynamic way. If you are looking for quick and exciting results, in-office whitening is a far better option.
How Long Do Teeth Whitening Effects Last?
The answer to this is it depends. It depends on the type of whitener you're using and an individual lifestyle habits. Teeth whitening in San Francisco is designed to reduce stains. If you have good oral habits and keep your teeth clean, your teeth whitening will last longer.
Why Go to the Cosmetic Dentist for Teeth Whitening?
Visiting cosmetic dentistry in San Francisco can help patients achieve a whiter smile that looks natural, enhancing their overall facial aesthetic. Having teeth whitening at a dentist's office near you can ensure the treatment goes easily and provide the best results.
Find out more about teeth whitening in San Francisco at SOMA Dental by contacting us for a consultation today.
The teeth naturally darken as we age? Furthermore, certain foods, beverages, medications and habits can contribute to a darker, yellowed, or stained smile. However, it is possible to erase years of stains in a single professional whitening session and sustain those results for many years with proper maintenance. According to the American Academy of Cosmetic Dentistry, professional teeth whitening in San Francisco is best maintained by a combination of good oral care and take-home whitening treatments as recommended by your dentist.
Frequently Asked Questions on Teeth Whitening in San Francisco
Am I a Candidate for Teeth Whitening?
You may be a candidate for professional teeth whitening in San Francisco if you are experiencing discoloration, but otherwise have healthy teeth and healthy gums. Schedule a consultation with a San Francisco dentist to find out if tooth whitening could be right for you. Some patients, such as those who are pregnant or sensitive to whitening agents, may not be candidates for professional whitening.
What Should I Expect When I Get My Teeth Whitened?
San Francisco teeth whitening consists of a thorough cleaning and polishing of the teeth, with all debris carefully removed. Your dentist will then protect your gums before applying a whitening agent to the surface of your teeth. The product will be activated and left on the teeth for several minutes before being washed off with water. Your results will vary according to the natural shade of your teeth and degree of discoloration, but it is normal for patients to experience a lightening of several shades in a single visit.
What Type of Post-Treatment Care is Required After Having My Teeth Whitened?
It is normal to experience some tooth sensitivity following a professional whitening treatment. You may be instructed to avoid consuming highly pigmented beverages for at least 24 hours to prevent the teeth from becoming stained again. Examples include tea, coffee and wine. Depending on your results and long-term teeth whitening goals, you may also be sent home from your procedure with an at-home whitening kit for later use.
What Are the Advantages of Teeth Whitening?
The most obvious benefit of the teeth whitening in San Francisco is having an improved whiter and brighter smile. In addition to the result, the other top advantages of teeth whitening include.
Zero Damage
Faster Results
Increase Aesthetic
Reliable and Trustworthy
Increase Confidence