Can I Opt for Teeth Whitening After a Dental Implants?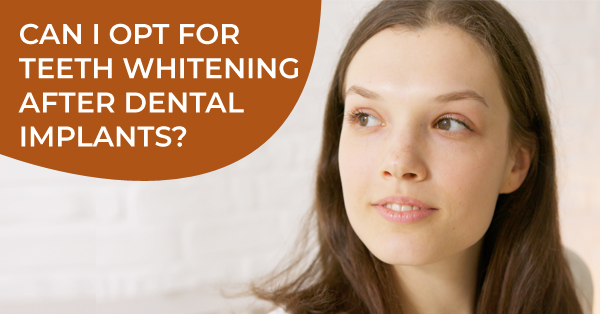 Everyone desires a picture-perfect smile. A beautiful smile reflects a sign of good health. When you suffer from tooth decay or trauma, it can impact your self-esteem and overall oral health and hygiene. Depending on your implant type, a reputed dental clinic can guide you to follow a customized regime. In our previous blog, we have explained about teeth whitening while wearing Invisalign in San Francisco. However, to know more about the possibilities of whitening your dental implants, read the article until the very end.
Like Real Teeth Do Dental Implants Get Stained?
Dental implants are mostly made of ceramic or porcelain materials. Many treatments of teeth whitening in San Francisco agents do not work on implants. In extreme cases, a dentist near you will replace the stained and discolored crowns to maintain both your implant and natural teeth.
Natural teeth get discolored due to a lot of factors. With erosion, teeth eventually turn yellow. With time the dentin becomes yellowish. Also, several medications, dental trauma, and tooth decay cause teeth stains.
Unlike natural teeth, dental implants develop protection from unlikely staining. Despite that, consuming pigmented food, beverages and tobacco products can badly affect even your implants.
What Can Damage and Stain Dental Implants?
Over consumption of acidic food items that contain tannins and alcohol as well as caffeinated beverages
Using abrasive toothpaste can cause stains. This can make the surface of dental implants to wear out
Not following proper and hygienic oral care habits can stain your dental implants in San Francisco.
Chewing hard food and items like ice, candy, fingernail or pencils, and pen caps also cause stains and a higher chance of cavities
A dentist office near you in San Francisco will advise you that brushing and flossing your teeth after each meal is essential. It can repel damaging agents and protect your dental implants.
How Can I Keep My Dental Implants Free From Stains?
Use a soft-bristled toothbrush and brush for at least two minutes twice a day. Stop brushing too hard.
Follow proper dental flossing and non-alcoholic mouthwash after each brushing.
Do not use abrasive toothpaste or DIY methods like baking soda or stain removers for your implants.
Not over consume pigmented and alcoholic foods and beverages that can cause stains.
Are you worried about the discoloration of dental implants? After getting your dental implants, you must always follow the suggestions of the best dentist near you in San Francisco's advice to maintain your implants stain-free.
Which Is the Best Dental Office in San Francisco?
If you are searching for the finest cosmetic dentistry in San Francisco service, then consider Dr. Nigel Suarez and his seasoned team at Soma Dental. Dr. Nigel Suarez is the best dentist near you. Go through the website of Soma Dental to gather more information about our services offered by the clinic or to check the testimonials of previous patients. Dr. Nigel Suarez's Soma Dental is the finest dental office where you can avail quality dental service right away. To book a consultation at Soma Dental call us at (415) 558-9800 and schedule an appointment today.