How Long Does It Typically Take for Invisalign To Align Teeth?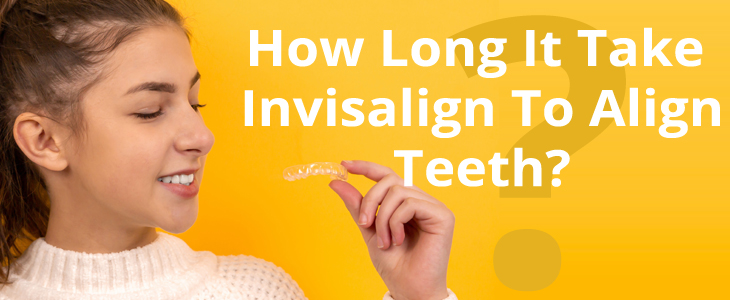 Those days are gone, when one had to endure crooked teeth or put up with weird braces. Today's innovation and technology has made many things possible. The best example is using transparent aligners that will correct your teeth's shape. Invisalign clear plastic aligners can hardly be detected by onlookers. Invisalign does not compromise your looks! This is especially great for youngsters, who are concerned about their looks. In our previous blog, we have explained can you consider teeth whitening in San Francisco while wearing Invisalign aligners? However, one question is common among all.
How Long Does the Invisalign in San Francisco Take to Work?
Let's find out the answer today!
Invisalign Time Varies Person to Person:

This is pretty obvious, since the degree of misalignment, type of teeth and other factors differs in every person. It has been observed in our dental office in San Francisco that Invisalign aligners take more time to work for teenagers. But this could also be due to not wearing the aligners for a specific amount of time. It is recommended to wear them for a minimum 22 hours a day.

In most adults, it takes around 12 months to observe best results. However, usually the changes are seen by 2-3 months of wearing the aligners. It is impossible to predict the time since the build of teeth is different, some may be hard and stubborn, while others might be easy to move and re-align.

3 Factors Affecting Invisalign Working Time Are:

Teeth Crowding:

More the dental crowding, greater the time required for proper alignment.

Age of The Patient:

It's not a major factor. The faster your teeth grow, the quicker the results.

Gaps in Teeth:

Minor or moderate gaps take less time to correct, while larger ones require more time.

Invisalign Vs Normal Braces:

Invisalign tends to work a lot faster than traditional braces, since they are customized and made for the patient's teeth pattern. Within the course of treatment, the aligners are changed to make sure alignment occurs properly. Such aligners put pressure on every tooth together, unlike braces which work on the teeth individually. While traditional braces take upto two years (24 months) to work, invisalign shows results much faster.
Conclusion:
Having queries regarding the length of time consumed by Invisalign in San Francisco to align teeth is quite common and obvious. This is why, carrying out the entire process under the supervision of an experienced professional is recommended. Soma Dental, where Dr. Nigel Suarez practices, is the finest dental office. With decades of experience in cosmetic dentistry, you'll get the best services from Dr. Nigel Suarez. Curious to know more? Browse through our website of SOMA Dental or dial us at (415) 558-9800 right away!