Eight Essential Factors To Look For in a Dentist and Dental Office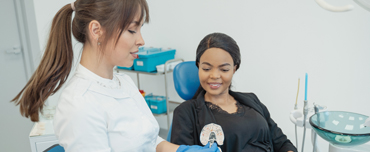 The very thought of visiting a dentist fills us with anxiety and stress. Thus, it is very important to choose a dentist and dental office with utmost care and consider them your trusted partner in oral health. In our previous blog, we have explained the 5 reasons why visiting a dentist near you in San Francisco is a must. Read on to look for the essential factors in a dentist and dental office.
Dr. Nigel Suarez is a renowned dentist at Soma Dental, offering extensive dental treatments and solutions. When you use the key words "the best dentist near me in San Francisco" you will find his dental clinic in top search results. Read on to gather some facts while picking out a dentist in San Francisco and a dental office in San Francisco.
8 Crucial Features To Contemplate When Picking Out a Dentist in San Francisco:
Seek References:

The first thing that can help you select the best dentist in San Francisco is a referral from your friends, family, and other healthcare professionals. It will help you save the time and effort that goes into selecting the best dentist.

Dentist's Credentials:

He or she must have undergone the necessary education, training, and the required experience and skills to provide the best dental treatments.

Comfort factor:

It is important to look for a dentist office near me in San Francisco, on the internet and see if you enjoy a good rapport and comfort level with the dentist. It goes a long way in ensuring open discussion of dental issues faced by you.

Experience:

Find out more about the dentist's experience as it ensures getting the best results from the procedure such as teeth whitening in San Francisco. Some dentists may have undergone additional training for more experience.

Telehealth Possibilities:

Enquire if the dentist office in San Francisco has the necessary telehealth capabilities and if it is possible to consult them through smartphones, two-way video, and emails.

Open Communication:

It is important to look for a dentist with whom patients are comfortable and have open and clear communication to detail their dental issues. The dentist must welcome questions and respond to them with clear answers.

Read patient testimonials:

Before visiting the dental clinic in San Francisco, it is important to go through patient reviews and testimonials and see what they have to say about the dentist and the staff at the dental office.

Insurance coverage:

Last but not the least, check the insurance coverage and seek more details from the dental office in San Francisco before visiting them for a checkup.
Which is The Best Dental Office in San Francisco?
If you are domiciled in San Francisco, consider Dr. Nigel Suarez at Soma Dental. Soma Dental is the best dental office in San Francisco. Inspect our website to gather more information regarding services provided appointments or to avail free virtual consultation. For more information call us at (415) 558-9800 and schedule an appointment today.